As the winter approaches and temperatures change, you might find your roof leaking. Every leaky roof is different, but usually the solution comes down to figuring out if you should repair or replace it. There are a series of questions you should ask yourself to figure it out.
What type of roof do you have?
Many people don't know what type of roof they have, especially if it's a house they didn't build themselves. Different types of roofs have different solutions! To fix a roof leak requires figuring out what kind of a system it is.
How old is your roof system?
The older your roof is, the more likely it is to have a problem. Wind, rain, temperature, sun— all these things can damage your roof over time.
How bad are the leaks?
See if you can isolate the leak. How many leaks are there? Are they coming from different places? Are they near pipes? Are they located near your wall or rooftop? When does it leak?
What are the long-term plans?
Replacing the roof is a major investment. If you're not planning on staying in the house much longer, consider a repair. While a replacement is the best solution to cover all bases, a spot repair may actually be enough to tide the roof over through the next few years. In fact, if the roof is relatively recent, you might consider repairs because the roof is probably in such good condition that it doesn't need to be replaced.
Nonetheless, if you're ever confused on what needs to be done, feel free to call us for a consultation. Curing the leaks may cost you, but that's better than an alternative.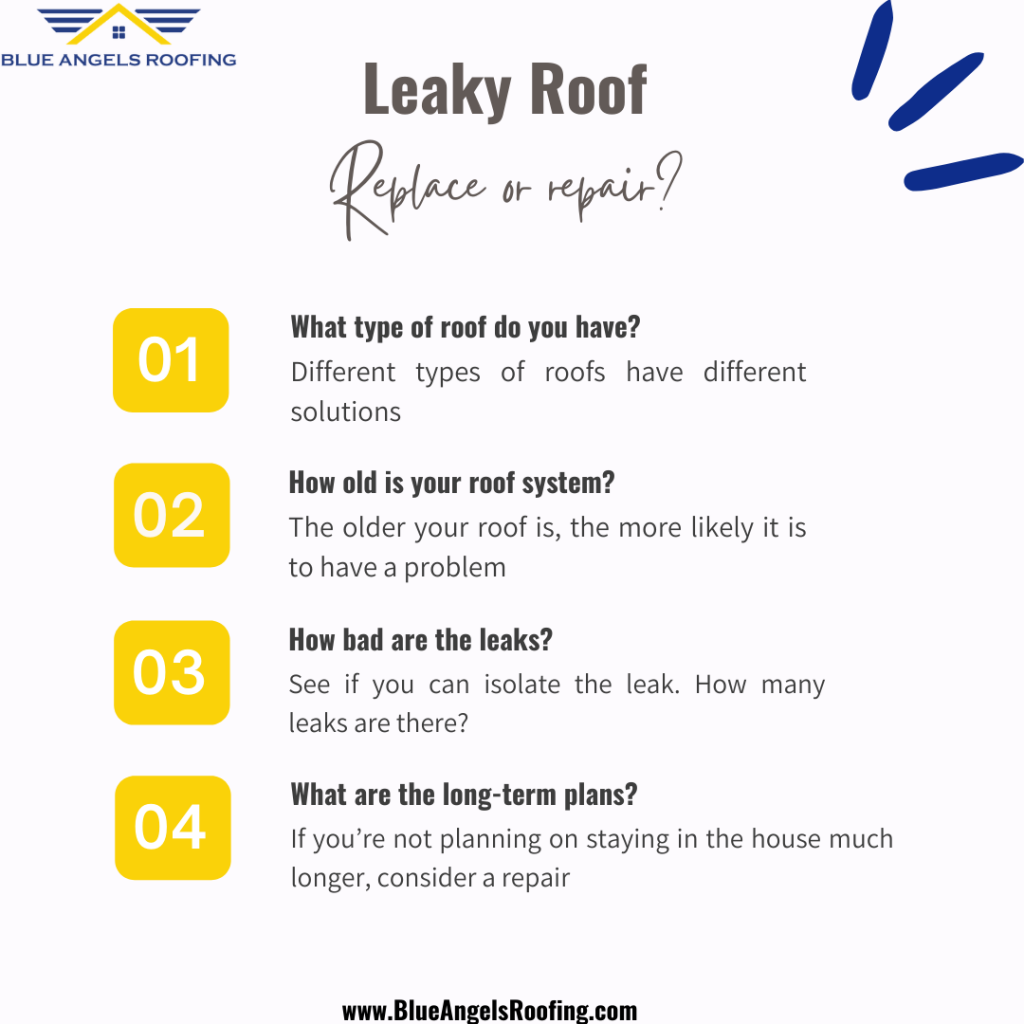 Make The Right Decision For Your Roof
Blue Angels Roofing is the preferred roofing repair company in the Birmingham area. We've done some of our best work throughout Cahaba Heights, Mountain Brook, Hoover, Irondale, and Vestavia, and we're always looking to do more. We complete work on both residential and commercial complexes, and we do this work to HOA guidelines. Courtesy, efficiency, and safety are our team's top priorities: it's not a finished job until the customer is truly satisfied. We take a lot of pride in making sure your home is in tip-top shape for you.
Give us a call today! We'd love to help you out in making sure your home is a safe castle for you and your family. Or leave your details below.